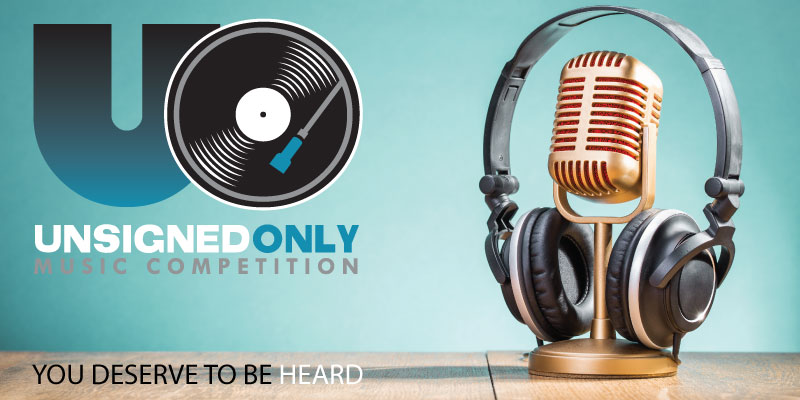 $150,000 IN CASH AND PRIZES SHARED AMONG 38 WINNERS

ENTER TO WIN A GRAND PRIZE OF $20,000 (USD) CASH
(plus mentoring by record label executives and more)

Judges Include: Garth Hudson (The Band), Aimee Mann, Taj Mahal, Sanctus Real, Bow Wow, Børns, O.A.R., Boney James, Francesca Battistelli, Grouplove, and more…plus music industry executives, including artist managers, journalists, talent buyers, and more


Are you an indie artist who deserves to be heard? If you believe in yourself and know your value as an artist, then you need to be proactive and take advantage of opportunities that can help to benefit you and promote your career. It's time to take the next step in your music career.
Unsigned Only Music Competition is designed for all indie artists (including solo artists, bands, and singers) who are unsigned to a major record label (indie labels are eligible). Unsigned Only's goal is to give artists exposure, recognition, and validation for their artistry. Unsigned Only is the premier music competition in the world for indie and unsigned artists.
What's new for 2019?
Due to public demand, Unsigned Only is adding five new categories for artists to enter: Blues, Instrumental, Jazz, Latin, and World Music. The complete list of categories now includes: AAA (Adult Album Alternative); AC (Adult Contemporary); Americana; Blues; Christian; Country; EDM (Electronic Dance Music); Folk/Singer-Songwriter; Instrumental; Jazz; Latin; R&B/Hip-Hop; Rock; Pop/Top 40; Screen Shot; Teen; Vocal Performance; and World Music. The Screen Shot category accepts music that is appropriate for placement in movies, TV shows, commercials, video games, and more.
Why should you enter?
Since Unsigned Only launched seven years ago, five Grand Prize winners have been signed to record label deals, making Unsigned Only a leading source for transitioning new talent into record deals. Many winners have also secured licensing deals, publishing deals, better gigs, and more recognition after winning the competition. This could be your chance!
The Grand Prize winner is awarded $20,000 USD in cash (plus additional prizes) and one-on-one mentoring by an elite group of record company executives. Prizes are also awarded to First and Second Place winners in each category. Judges include high-profile recording artists, journalists, talent buyers, music licensing execs, and artist managers.
Unsigned Only is sponsored by: Berklee College of Music; Eventric; Hybrid Studios; Lurssen Mastering ; Merch Cat; Musicians Institute; Musician Wellness; Pro Tour Nutrition ; Radio Airplay; Shubb Capos; Symphonic Distribution; The Music Business Registry ; and Vocal Eze
2019 JUDGES


Garth Hudson
The Band

Aimee Mann

Grouplove

O.A.R.

Jack Ingram

Robert Smith
The Cure

Sanctus Real

Børns

Bow Wow

Aaron Shust

Lucero

Taj Mahal


Boney James

The Secret Sisters


Francesca Battistelli



JD McPherson


Lionel Loueke


Simón Mejía
Bomba Estéreo

Oumou Sangaré


Fred Hersch


Janiva Magness

Ruthie Foster


Craig Campbell


Cedric Gervais



Frank Foster


Gareth Emery


Mariza


and more tba…


Judges also include: Josh Jackson (Co-Founder and Editor-In-Chief, Paste Magazine); Anthony DeCurtis (Contributing Editor, Rolling Stone); Lyndsey Parker (Managing Editor, Yahoo Music); Jed Gottlieb (Music & Theater Writer, Boston Herald); Kevin McNeese (President, NewReleaseToday); David Sikorski (Sr. Editor, EARMILK Media Inc.); Jeff Zuchowski (VP, Artist Marketing / Industry Relations, Pandora); John Dibiase (President, Jesus Freak Hideout); Angel Romero (Founder/Sr. Editor, World Music Central); Miriam Di Nunzio (Arts Editor / Entertainment, Chicago Sun-Times); David Silbaugh (Talent Buyer, Summerfest); Brandon Chitwood (Assistant Director, EDM Joy); Art Tipaldi (Editor, Blues Music Magazine); Mac Randall (Editor, JazzTimes ); Chad Jensen (Artist Manager, Jensen Artist Mgmt); Brinson Strickland (President, Collective Music Nashville); Deborah Klein (JV Partner and Artist Manager, Primary Wave Ent); Chris Sampson (EVP, Programming Superfly Presents); Kristyn Ciani (Talent Buyer, C3 Presents); Connie Farr (Music Supervisor / Creative Director, ThinkSync Music); Evan Stein (Owner, Experience Music Group); James Kempner (Owner, JMK Connections); Jennifer Taunton (Music Supervisor, Level Two Music); Jessica Cole (Founder/President, Lyric House); Rachel Levy (Senior VP, Film Music, Universal Pictures); (Music Creative, Sky TV); Sheryl Louis (Artist Manager, CSM Management); and more to be announced.
SPONSORS SPOTLIGHT
Radio Airplay
Submit to a FREE song contest hosted by Radio Airplay! Prizes include placement in Relix Magazine's Spring Issue CD sampler reaching over 300,000+ subscribers, an On the Rise ad in Relix magazine, and 4,000 Radio Airplay play credits added to your Radio Airplay account. Plus, all new sign ups will receive 100 free spins just for registering an account on Radio Airplay. Deadline to enter is February 8, 2019. Sign up and enter your song today for free!
Lurssen Mastering
Lurssen Mastering is a world-renowned multi-Grammy award-winning mastering studio. They have mastered many gold and platinum records and have received a number of industry awards. In addition to the Grammys earned and proudly displayed by Lurssen Mastering, numerous songs worked on by the team have been nominated for Oscars over the years and several have won this prestigious award. 2019 Grammy nominations include: Best Rock Performance – Chris Cornell, Best Score Soundtrack – Black Panther, Best Folk Album – Punch Brothers, Best Traditional Blues Album – Ben Harper and Charlie Musselwhite, and more.
INDUSTRY PARTNERS SPOTLIGHT
ASCAP EXPO
The ASCAP "Write Your Future" EXPO is back for its 14th year and offering their members an exclusive discount! Come network with fellow music creators, experience breathtaking performances, and learn from top talent and music executives! Use promo code ISCDISCOUNT to score up to $30 off your passes! Hurry, price increases 2/14!
Christian Artist Pro (CAP)
ChristianArtist.Pro (CAP) is a growing community designed to elevate the platform of independent Christian music artists by giving them access to training, tools, music industry professionals and fellow artists worldwide. From recording, to marketing, to social media strategies and booking, CAP exists to raise the bar for all of its artists seeking to thrive as independent creatives. CAP is for any musician, artist or band that identifies as a faith-based artist. The team behind CAP has a combined 40 years in the Christian music industry, encompassing experience in recording, production, management, retail and eCommerce, editorial and public relations, social media strategies and best marketing practices.
StarNow
Kick-start your music career with StarNow! StarNow is the world's leading auditions and jobs website for musicians. As a member, you can apply to auditions and jobs on the site, be scouted in the Talent Directory, and work with some of the biggest names in the industry. Join at www.starnow.com and get discovered today!
Folk Alliance International
The world's largest gathering of the folk music industry and community is February 13-17, 2019, in Montréal, Canada. Returning to Canada in 2019, the Folk Alliance International (FAI) conference theme will explore the artistic process from inspiration to vocation. Join them for a collective conversation about innovation, collaboration, and spirituality in art!
A3C Festival & Conference
Mark your calendars for October 8 – 13, 2019! A3C is celebrating its 15th anniversary! Over the years, the event has grown to become an Atlanta institution and one of the largest annual music festival and conferences in the US. Each year, thousands gather in Atlanta to discover, network and learn from the innovators, entrepreneurs and artists that drive the culture forward. This year is going to be next level.
Sync Songwriter
Are you a singer, songwriter, or musician and you'd love to have a career just writing and recording music? There is no better way to make money from your music than licensing it to TV & film. Along with top experts in the music licensing industry, they show you exactly how to get your music placed in the top TV shows, movies and ads. Imagine the freedom to work when and from where you want. Grow your reputation for the songwriter you are and make money doing what you love to do!

Unsigned Only Music Competition
3940 Gallatin Pike
Nashville, TN 37216
Phone: 615.251.4441
Fax: 615.251.4442